Horse Assisted Development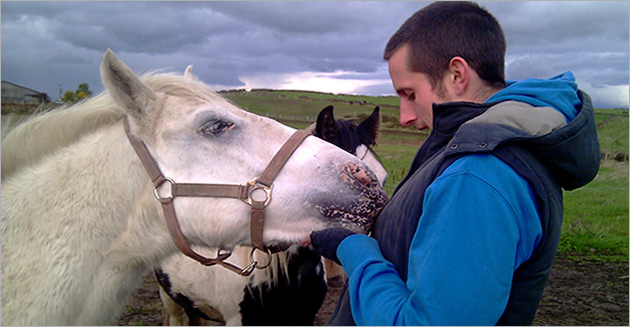 Horse Assisted Development is a fun and effective way to get a better understanding of yourself through interacting with horses.
Horse Assisted Development, also known as Equine Assisted Learning and Equine Assisted Coaching, allows you to learn different ways of communicating and to see the immediate effect of modifying your behaviour.
Horses don't judge or criticise but provide instand and honest feedback by responding to the non-verbal signals we give them.
For organisations, Horse Assisted Development can be an invaluable tool for:
Communicating with colleagues and clients
Building leadership and people skills
Team performance and development
Managing the pace of change
For individuals, it can help you:
Identify personal obstacles and challenges
Increase your confidence
Understand how others may react to your behaviour and how you react to theirs
Consider and try out new approaches
For parents, schools and youth organisations, it can support the social and emotional development of young people and help them engage with learning. In particular, it can help young people:
Practise handling their emotions in real-life situations
Work on their concentration span and focus their energy in a positive way
Build their confidence level
Learn to take responsibility for their own behaviour and actions
Horse Assisted Development is a non-directive and non-confrontational way to help you read and understand the signals others send, identify your own skills and strengths and realise your potential.
Abbas, aged 13
I learnt at the start I got scared but gradually I have got more confident. Working with horses has built up my confidence. When I am at school in class I can now tell the teacher if there are things happening to me that I don't like. I have the confidence to speak out. When I am home I am not scared to tell a family member if there is something happening that I do not like
Rachel Ward-Lilley, Director, Girls Out Loud
I thought I was a non animal person but I have found out that I am ...– Heidi's horses, like herself, are remarkable, powerful and life changing. The coaching process enables you to discover a great deal about yourself and others in a very creative, clever and fun way – we laughed and learnt lots. I can see how both adults and children can benefit hugely from working with Heidi and her horses.
Jodie, aged 14
I have learnt that I can get upset very easily and that I have low self confidence. Since I started going to HAD I feel that I could face up to people when they cause problems.... I had always wanted to be the captain of the netball team and I feel that me working with Heidi and Candy I have achieved this.... Heidi and the ponies have helped me a lot with the things around me and in myself.
Julie Tweedale, Director, Freedom Personal Safety
I was intrigued, curious and a little nervous about attending the session. I am not an 'animal person' and although I could see why people connected with animals, I never really 'got it' myself. I had heard Heidi talk about her work and it was clear that the results she achieves, particularly with young people, were impressive. As I work with young people myself, I wanted to experience horse assisted development myself so I could see where it could be applied.
We learnt how to relate to the horses, their personalities and their life experiences and how our reactions to them influenced their behaviour. During various exercises we saw how our attitudes and use of our 'energies' had a marked influence on the horses. I never expected to feel such a connection with them and was amazed at the immediate feedback we got from them. It was incredibly powerful and moving and will stay with me for a long time.
Heidi was a fantastic facilitator – striking the right balance between giving us room to learn and encouraging and supporting us in completing the tasks. She gave us time and space to reflect on our learning and her calm, professional, warm manner put us all at ease and eager to get involved.
I can imagine there are so many applications for horse assisted development, but I can see how it would directly benefit young people with low self-esteem, people who have been affected by trauma and anyone who is ready to learn more about themselves in the most tremendously powerful way.
I feel very privileged to have taken part in the session and my advice to anyone else is – if you get the chance, do it. If you don't get the chance, contact Heidi and make it happen. You won't regret it.
Nathan Martin, MD, PC Solutions
The simplest of tasks with the horses can reveal some interesting points about how I approach business and point me in the right direction for managing tasks within my business.
Paul Scott, Yorkshire Business Growth
It was a fascinating approach to team building; having to think, plan and communicate clearly becomes more and more essential when there is a horse involved, I can see real potential. Hugely enjoyable session and could become an essential element for businesses developing teams.
Pandaura Maund, Senior Operations Manager, Telefonica O2 UK Ltd
I found the demonstrations far more powerful than the usual role play used in training/coaching sessions as you could not plan the reaction of the horses and had to really adapt your approach if you were not getting the results required.
Peter Page, Business Growth Specialist, Marshall Turner
Some times the only way to really understand what something is about is to try it! Equine Assisted Learning is one of these areas. So, firstly, when Heidi invites you to a taster session - jump at the chance, well worth a few hours of anyone's time. I have been fortunate enough in the past to have worked for large companies that invested significant amounts of money into training managers and even holding a post graduate management qualification. I have run small and large teams and had been responsible for large clients and revenues in hundreds of millions of pounds! So, what could Heidi teach me about communication, about leadership, about me, about business? Actually, A LOT! The horses pick up on the slightest change in thought pattern and shifts in energy levels. They somehow tune in to the nature of your thoughts. Heidi set us simple exercises and left us to it. The clever bit is how Heidi takes what she observes in the exercises and in a very kind and gentle way explains about how one's communication style comes across, how your thought patterns impact on others and a whole load more - you'll have to do the taster to find out. Heidi has great insight and a superb way of explaining what can be difficult concepts! Would I recommend Heidi and her programmes? YES.
Maxine Stead, MD, Alexandra House Spa
Horse Assisted Development is really enlightening and is a unique tool for personal development without being classroom based and boring!
Richard Hagan, MD, Crystal Doors Ltd
Heidi, thank you ever so much for last Friday. I came with no preconceived expectations, and was taken back how amazing working with horses can be. Being in a field so calm and tranquil, with nature all around was a wonderful way to start a day. As the owner of a company, usually everyone bends to my direction, so being outside my comfort zone with horses happy to eat grass in a field was a superb challenge. The challenges really did make me realise that my own standard approach doesn't always work and opened up the ideas of what is effective leadership, team work and goals so very well. Thanks again for the BBQ and making the day so enjoyable whilst learning so much.
Share this page